Applications Now Open for USVI Idea Incubator
For Immediate Release
April 4, 2023
For More Information, Contact:
Sydney Paul
Senior Manager of Business Intelligence and Marketing
sydney.paul@uvirtpark.net
Phone: 340-474-0922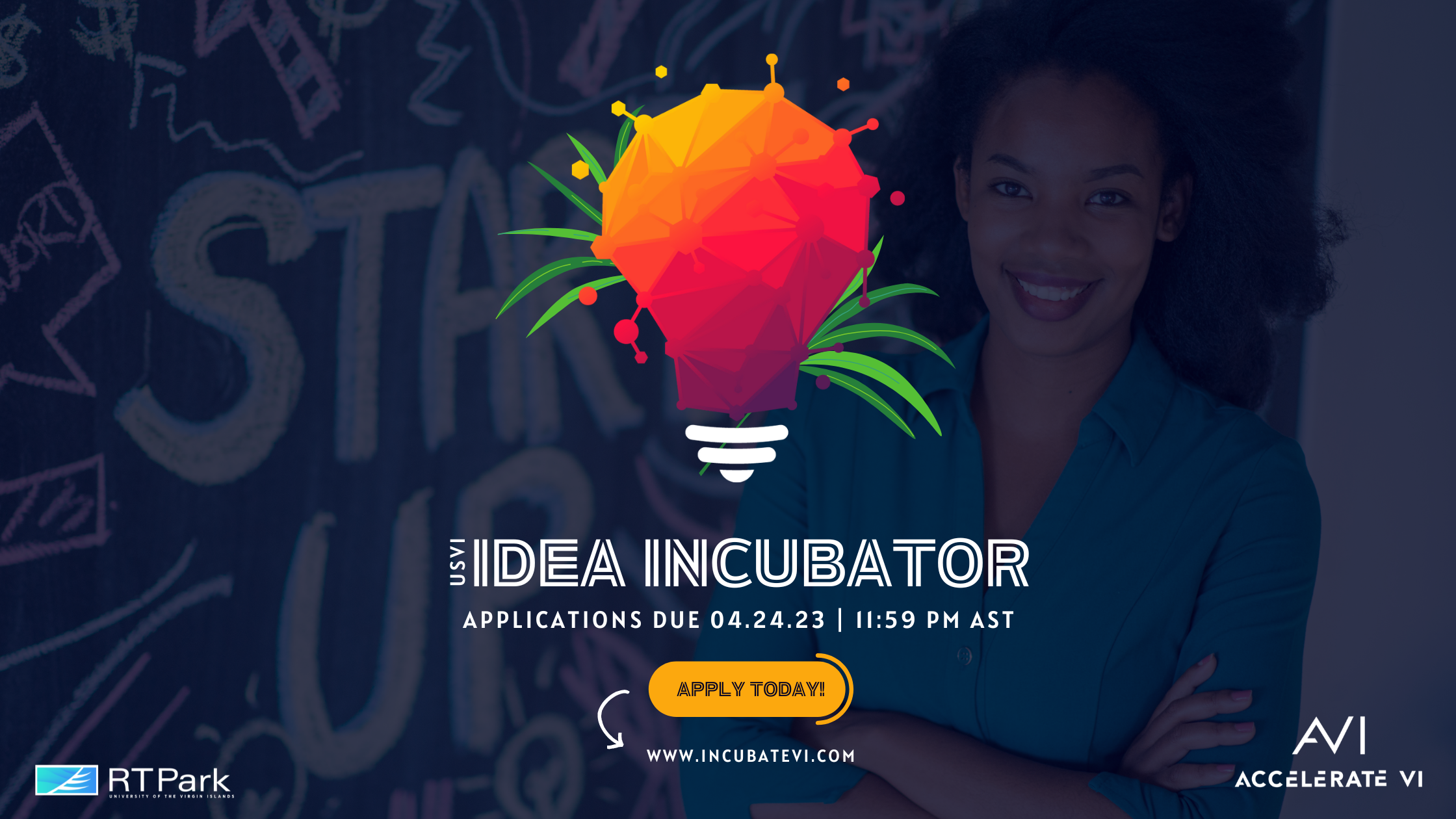 Free education, training and development program that helps local tech innovators grow ideas into scalable ventures runs May 9–August 18; Apply now through April 24
April 4, 2023 - ST. CROIX- The USVI Idea Incubator, a new initiative of the UVI Research and Technology Park (RTPark) is currently accepting applications for its inaugural 15-week program. This new program will provide ambitious Virgin Islanders with big tech ideas a step-by-step framework for launching and growing a technology company, free of charge.
An onboarding to tech entrepreneurship, the program strives to educate and train participants on the fundamentals of working with developers to build a product while exposing them to industry best practices and providing the tools and resources to execute. This program is run in a hybrid format, with weekly virtual sessions and opportunities to engage in person during the first week and the final week.
"Supporting local entrepreneurs is a key part of our mission here at the RTPark. Over the past few years we've had the opportunity to help residents grow and scale their businesses through programming like Accelerate VI and Pre-AVI, which in turn has provided us with unique insights into the needs of the founders in this market," said Amanda Spann, Entrepreneurship Program Manager.
Spann acknowledged that a big programmatic takeaway was that many aspiring founders, especially those transitioning into tech entrepreneurship, didn't know what they didn't know.
"We realized that it was critical for us to realign as an organization to provide a foundational education that would empower and enable residents to take their ideas from concept to creation and to break into the industry with confidence. We've recalibrated and have got a lot in store! We look forward to deploying Idea Incubator and helping Virgin Islanders take the first steps towards building the ideas of the future," she said.
Idea Incubator will immerse participants in a series of workshops, webinars, and mentoring sessions tailored to give them professional feedback, launch a product, boost their sales and polish their pitch for future endeavors.
"As a born-and-raised St. Croix resident, I am thrilled to work for a program that is specifically designed to support USVI tech entrepreneurs. The USVI Idea Incubator provides an unparalleled opportunity for aspiring founders, and I encourage everyone to apply and join us on this journey," says Alfonso Rodriguez, Jr., Accelerate VI Operations Manager.
By the end of the program, founders will:
Improve their understanding of startup best practices
Validate their idea with customers
Expand their network to include successful founders and investors
Enhance their professional brand
Refine their business model and revenue streams
Become more proficient at pitching their startup to potential co-founders, accelerators and customers
Map out a plan for the next year of growth
Says Eric Sonnier, Director of Entrepreneurship, "The Entrepreneurship Team at the RTPark is dedicated to creating an environment that is conducive to innovation and growth for Virgin Islanders who want to explore tech entrepreneurship. We're excited about working with another group of innovative problem solvers and can't wait to see the results at the end of the 15 weeks.
You should apply if you:
Are currently based in the US Virgin Islands
Have a startup idea or business concept that can be delivered and deployed as a web or mobile app
Have an innovative tech or tech-enabled business idea that either addresses a challenge specific to the US Virgin Islands or has the ability to scale globally
Are a passionate, aspiring founder willing to dedicate 10+ hours per week to work on your business
Consider yourself committed, ambitious, and disciplined enough to meet weekly milestones and complete the program
Have a reliable and stable internet connection, as the program will primarily be conducted online
Additional requirements:
No professional services i.e. consulting
Idea has generated less than $50,000 in revenue to date
Idea has raised or received less than $100,000 in total investment (e.g., equity, convertible notes, government grants, academic grants)
Commitment to Accelerate VI Code of Conduct & Attendance Policy
To apply, visit www.incubatevi.com
Contact:
Sydney Paul
Senior Manager of Business Intelligence and Marketing
sydney.paul@uvirtpark.net
Phone: 340-474-0922